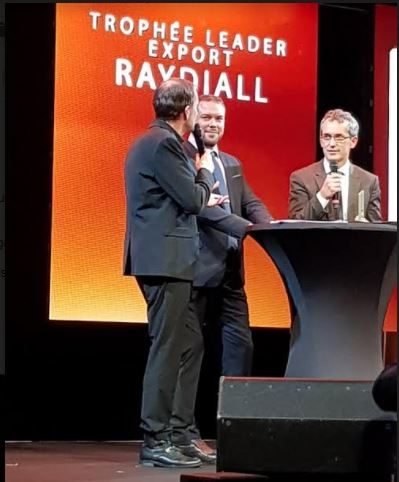 Raydiall registered a 15% increase in sales in 2016 and an export share approaching 100%! The joint venture created in 2012 by Radiall and ARaymond propels the two industrial flagships to the forefront. Now, the company is among the leading automotive equipment manufacturers on an international scale.
How do you explain Raydiall's performance since its creation in 2012?
Raoul Pezet, president of Raydiall : To sum up, I would say that we were formed at the right time with the right products and the right players. Raydiall combines Radiall's technical expertise with ARaymond's knowledge of the automotive market. Moreover, both groups are already established worldwide and have the ambition to become leaders in vehicle data connection. Faced with giants weighing more than €10 billion, in 2016 we reaped the rewards of our efforts. Indeed, we managed to reach excellence of our products, agility, and great proximity for our customers. In addition, we have chosen to be present very close to automakers in their R&D. Whether in Europe or Asia, we decided to propose very high value-added products that are easier to integrate than those of competitors.
Did this growth continue in 2017?
RP : This year, we have continued to hire. Indeed, we now have 65 people working at the Voiron site. Also, we have set up two entities! The first one is in Detroit, the American automotive capital, on the premises of ARaymond. The second one is in China, near Shanghai, in order to target the Chinese market in connectors and charging EV guns. Moreover, we have established partnerships in Korea and a subcontracting network in Tunisia. The market for connected and electric cars is really exploding.
And how do you see things going for Raydiall in 2018?
RP : Well, we expect to start producing connectors in China and Mexico. We also plan to establish ourselves in India, where ARaymond already works for the Tata group through Jaguar Land Rover. Moreover, we are going to pursue our strategy of differentiation, by focusing more on our agility and our production quality. Indeed, we find these assets essential if we are to be a player in the specific market of autonomous cars. In this way, with new premises in Voiron and the recruitment of talents, our goal is to reach €23 million in sales in 2018.
If you want to read the french article written by R. Gonzalez for Presences Grenoble.fr, please visit the following link:
http://www.presences-grenoble.fr/actualites-classement-grenoble/leader-export-2017-raydiall-se-connecte-la-voiture-de-demain.htm
If you have any question or need for information, you can also contact us via the following page: Contact Us.
Don't hesitate to leave us a comment! Have a nice day.