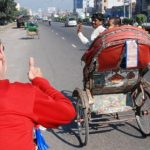 Raydiall was a full supporter of the association « Impulse Projects » in 2017.
The goal of the association is to create innovative solutions for common problems found in developping countries.
The association follows the principles of a social and solidarity based economy.
The association is also involved with local Rhone Alpes schools by proposing concret technical subjects for students.
Raydiall supports the efforts of a member of their technical team to particpate actively in the association.
The 1st Impulse Project being pursued is an investigation of how to improve the transmission of a rickshaw.
The innovation could have impacts on the daily lifes of millions of people around the world, especially in South East Asia.
You can find more information about the project and the association by clicking: