Welcome to Raydiall latest news! On this page, you'll find everything we need to tell you : product launches, participation in events, reception of awards, expensions, etc. We hope you'll have fun reading our articles and discovering some quite interesting topics!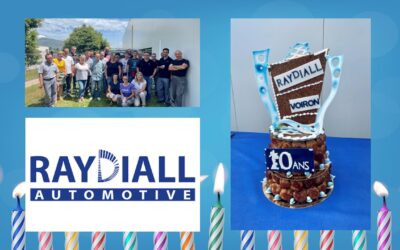 Cet évènement est l'occasion de mesurer le chemin parcouru et l'ambition de cette PME voironnaise.
Tout a commencé en 2012, lorsque ARaymond Network, leader dans le domaine de la fixation et de l'assemblage et d'autre part Radiall, leader dans les connecteurs et composants destinés aux applications électroniques, ont décidé d'unir leur force, pour conquérir le marché très prometteur de la connectivité dans l'automobile.
Raydiall a très rapidement bénéficié des experts, des technologies et du portefeuille clients des deux sociétés françaises, ainsi que de leur empreinte industrielle mondiale.
Aujourd'hui, Raydiall est reconnu par tous ses clients OEMs et Tier1 en Europe, aux USA, en Chine et en Inde et a su trouver sa place dans un secteur très compétitif et mondialisé.
Toujours accompagnée par des collaborateurs enthousiastes, des actionnaires actifs, des clients exigeants et un marché de la connectivité tiré par la croissance des équipements électronique, Raydiall a de belles perspectives pour ces prochaines années !
lire plus